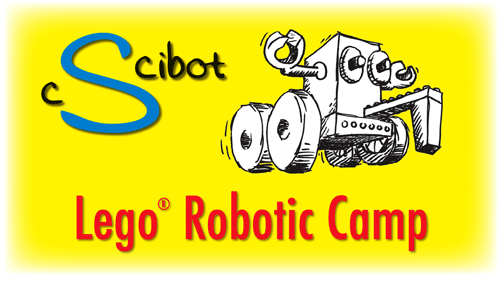 2019 cScibot LegoŽ Robot Camps
Intro Camps:
June 17 - 21, 9 AM - 12 PM
June 24 - 28, 1 PM – 4 PM
July 8 - 12, 9 AM - 12 PM


Advanced Camps:
July 15 - 19, 9 AM - 12 PM
July 22 - 26, 1 PM - 4 PM
For additional info, if you have any questions, or to request a brochure please contact:
Tom Stokke • 701-777-3337 • thomas.stokke@und.edu
---
A limited number of need-based scholarships are available. Please call the Computer Science Department for more information, 701-777-4107.
---
LegoŽ robots are easy and fun to program. The software used to program the robots was designed for grade school children so everyone will be able to get started right away The robots are powerful enough to be used in college robotic competitions.

There are several means of creating control programs to operate the robot, each with more power and complexity. As campers become more proficient at controlling their robot, there are programming tools designed to grow with him/her. Campers will learn how to control the robot to avoid obstacles, find, pick up and carry objects, and even compete in a Sum-style robot competition. The advanced camp is for students who have attended our introductory camp or have prior NXT™ experience.

The cScibot LegoŽ Robotic Camps will be held in various classrooms in the Computer Science Department located in Streibel Hall on the University of North Dakota campus.

Both camps are geared for girls and boys ages 9-14.